Before headed back to work make sure to visit the salon to get your cut and color done. Take a few hours to come in and relax so you can start to feel like your old self again. It was the first thing I scheduled when my mom came to town the week before going back to work. I may not be in my old clothes quite yet but my hair is gonna look good!

Let's face it if you don't have a lot of time on your hands, your hair can sometimes fall to the way side in your morning routine. As a new mother myself with no time to blow dry I had to figure out how to put my hair up and look put together...in five minutes or less.




First things first...find time to shower! I will either shower when I put my son to bed for the night or before my husband leaves for work.
***
1. Start by putting a quarter size of Aveda Confixor in while set.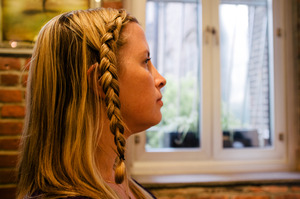 3. Make braid of your choice out of the front section of your hair. In this case I did a basic braid in what would be my bang area. Don't worry it doesn't need to be neat. Be creative, you could also do a fishtail or a French braid.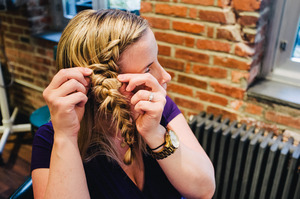 4. Next is the fun part! Mess it up. As seen in the picture, start to pull at the braid section by section. This will make it fatter and messier. Messier the better! This is great for fine haired girls as it really can add a lot of volume to the braid!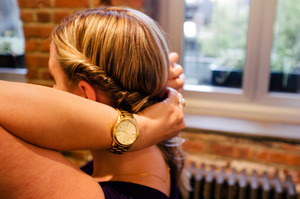 5. Now move to the other side of your head and start to twist the hair.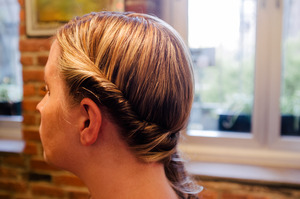 6. Place Bobby pins into the twist and keep twisting til you get to the opposite side of the head.
7. Grab the braid and place it on top of the twist, pin it.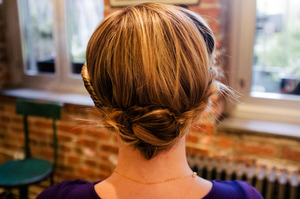 8. Now continue to twist remaining hair and pin as you go.
Ta-Da!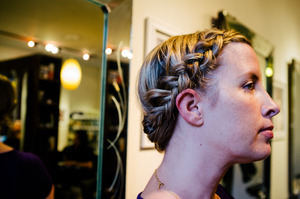 Spray on some of Aveda's Air Control and your ready to go!